Supplied as complete backlit marble solutions; frameless, lightweight, ultra-thin, with edge to edge lighting, and ready to install.
Custom marble only 4mm thick, bonded to our lightweight diffuser panels, combined with our edge to edge-lit LED panels and fixings plates,
offer perfect solutions unrivalled by others.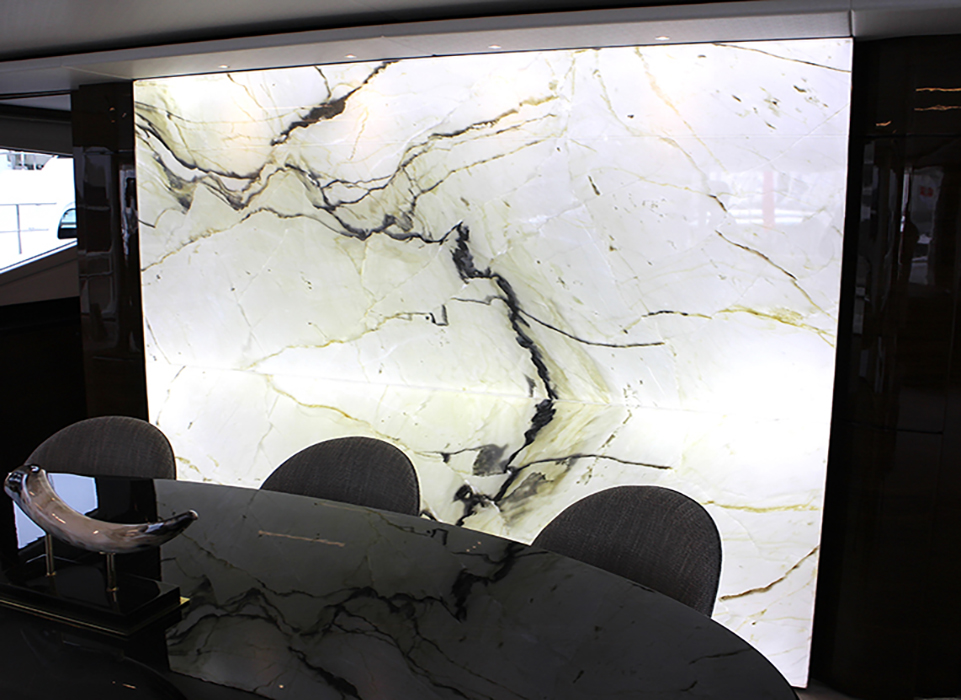 Large format marble features, supplied with integrated lighting and fixings.
No need for heavy frames, complicated systems; our backlit marble comes with its own minimal fixings allowing quick and easy installation.
Ultra-thin: from 30mm total thickness, including.
Translucent Marble
Diffuser Panel
Edge to Edge Lighting
Fixing plate and Fixings
• Reduced weight
• Large size installations possible virtually joint free
• Reduced thickness
• Reduced weight
• Increased illumination of stone
• Balance light spread
• Serviceable LED panels
• Backlit edging is possible
• Edge to edge LED lighting
Premium marble selection for backlit applications, whatever your needs,
our backlit marble can provide the best possible solution.
Our expertise extends from the stone selection of the finest marble working within your budget, through to stone design to ensure your project is finished to the highest possible quality.
Highly complex stone fabrication is possible using Grama Blend lightweight marble solutions, including backlit marble and stone edging. All created using our state of the art production, using the latest CNC and waterjet stone processing technology in our facility, it guarantees the highest levels of precision and quality.